Network security is a critical component to the overall security of organisational IT infrastructure, yet the diversity and complexity of network access points often result in vulnerabilities being overlooked.
KT Secure is proud to be partnering with macmon secure for our latest webinar: Avoiding disaster with advanced network security', now available as a recording. We will take a closer look at real examples of poor network security which have resulted in significant vulnerability exploits and discuss best practices for secure networks. You can also register for a recording of the 30-minute session to watch at your convenience.
WEBINAR: AVOIDING DISASTER WITH ADVANCED NETWORK SECURITY
When: On demand recording
Duration: 30mins
Presenters:
Paul Smith – Pre-Sales Engineer at macmon secure
Paul Charles – Head of Professional Services at KT Secure
Jon Fisher – Sales Consultant at KT Secure
Over the next few posts we will be looking at 12 reasons why strong network access control (NAC) is vital for businesses of all sizes. Ensuring the overall health of the network and the protection of critical systems and data.
Our first reason for good NAC is: Always on PCs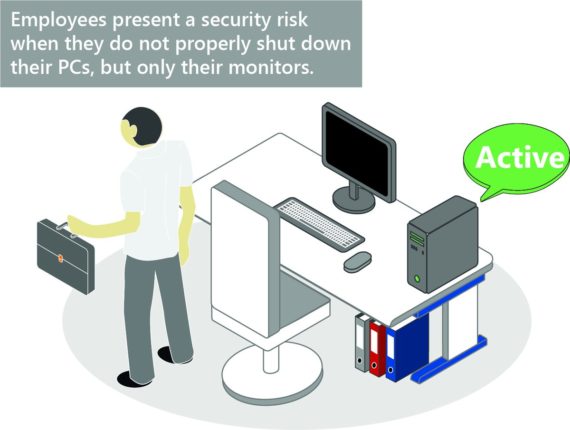 In some offices it is standard to leave your PC on all the time, even over long periods. However, the convenience of being able to access your computer in moments can have some significant security disadvantages for your organisation's network. Every single endpoint device connected to your corporate network can represent a potential opening for unauthorised entry and access. While the impact of this will vary depending on the type of information accessed and by whom, it has the potential to lead to critical data loss, as well as revenue and reputational impacts.
While firewalls are a good security measure, they are not infallible, so additional good practices like shutting down PCs overnight, is another way to help prevent unauthorised access. If the networked device is switched off, and therefore offline, cyber attackers are unable to reach them.
Additionally, when PCs are used by multiple individuals within the company, it also makes sure that users are logged off the network when they leave their desk. Another important step in ensuring they users can only access what they should on your network.
Don't forget to register for the live webinar session 'Avoiding Disaster with Advanced Network Security' on the 12th of June at 12pm, or request a recorded version.